A few years ago now a French company had launched into the PC hosted in the Cloud: Shadow.
The promise of Shadow is a PC in the Cloud that can run any game in Ultra mode and can also run games in 4K. All for a monthly subscription that can be ridiculous when compared with a high-end physical PC.
Google also plans to get into the PC gamer in the cloud, so this is for me a first opportunity to test with Shadow the concept of Cloud gaming.
Shadow what about the performances?
Indeed we can say that the promise of performance is well kept. You will have a PC with a CPU and RAM shared between several users, but as much to say that with the Intel Xeon they put in place that holds more than correctly the load. Note also an Nividia Pro is installed which is more or less the equivalent of an Nvidia GTX 1080 graphics card to keep the graphics performance. Important point this graphics card is totally dedicated to a user / a VM.
Nothing to say, I ran all games in Ultra settings, such as Anno 1800, Battlefield 4 and 5, but also Fortnite.
In addition, you will have at your disposal a downlink of 1 Gbps, so when you download a game one or two minutes later you will be able to play already.
Performance level Shadow tape so very strong.
What are the features of Shadow?
You have the possibility through the client application to change the encoding in H265, for my part I did not notice improvement in performance so much after its activation.
You have full access to the PC and need to install everything yourself except Windows 10 which will already be present. Are your games to be installed from the Internet, they do not put a library of games available. Too bad, we would have liked an agreement between Shadow and companies like Steam or EA.
The sound is obviously part, you can obviously hear the sounds of the PC. In the client there is a test feature on the microphone, my side with a Corsair headset it did not work, I had the sound but not the microphone.
Ability to install the client on your Android or iOS Smartphone to play on your phone. Very ingenious and it worked really well. Do not forget to put a controller support to really be able to play on your phone.
Shadow Ghost, no need for PC anymore
Shadow Ghost is a small box sold for 119.95 €. The Shadow Ghost allows you to connect to your screen, keyboard and mouse and connects directly to your Shadow PC. So no need for your side to have a PC that consumes a lot of power to connect to your Shadow in the cloud. Very good initiative, very quickly out of stock.
Shadow versus latency / ping?
Again, the added latency was not incredible, I noted 5 ms and sometimes 10 ms. Nevertheless, this is a weak point in the world of gamers. Any added latency is found to be a weak point compared to the enemy, especially since this added delay is noticeable in FPS sessions.
Honestly, no miracle, they have worked hard on their copy, but it confirms that a PC in the cloud directly faces latency issues and can become a weak point for FPS multiplayer. Your connection also plays an important role in this scheme. If you have a very good connection, their datacenter versus your ISP may not always get along (how to talk) about peering. This means that your ISP must choose the shortest way to contact them. Once established VPN connection nevertheless note that this ping has a direct influence on your gamer experience.
What internet connection for Shadow? What is the ideal flow rate?
My home connection was RJ45 1 Gbps, no Wifi. On Shadow it is explained that with a connection of 15 Mbps downstream is the minimum required.
According to my tests, actually my internet connection had a direct impact on the quality of the visual.
The games run well in Ultra locally on the PC in the Cloud, but nevertheless, if we reduce the connection to 15 mbps in the Shadow client we get a hell of a bad slap in the figure. I will say that from 15 mbps to 30 mbps image quality is still very mediocre.
Keep in mind that your home machine only receives a stream from a remote machine. A bit like if you were watching a video (interactive) on the Internet, on Youtube, Netflix etc …
On my side from 25 mbps I can watch a video in 4K HDR whatever the platform used for streaming. Despite this, with Shadow if I go below 30 mbps the image quality is really low: it is pixelated, sometimes the quality may be worthy of a bad DivX. I'm not exaggerating at all. I was disappointed because although the game runs locally in Ultra on my side I felt like watching a game in less quality and it really began to hurt my eyes.
On the other hand, I often had significant freezes perceptible by the fact that my mouse took a long time to move on the screen and it moved very slowly. I do not think this is directly related to the connection, I rather look for a load increase on the server.
Should I choose Shadow?
I personally think that if you have an internet connection beyond 50 Mbps, and not 15 Mbps as stipulated by their site, you can fully enjoy and enjoy Shadow. For my part, because of this and the ping I took a month trial and I stopped because the ping is very important for me.
I do not think this will actually replace our PCs, I mean it could but are we already ready to take the plunge? The subscription is not so expensive, around 30 € per month if you make a commitment of one year.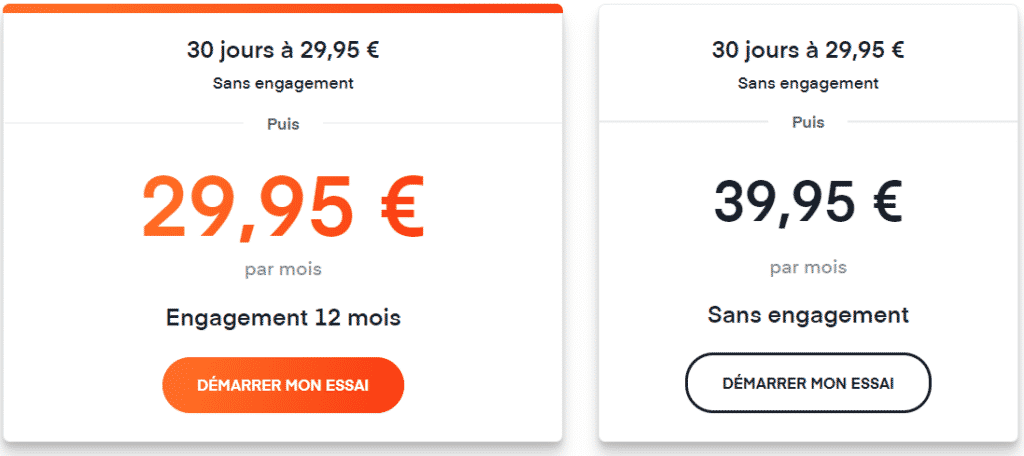 When we do the calculation between a 2000 € machine versus Shadow we say that the Shadow is very well positioned, but their configuration is not worth 2000 € at the moment. It is necessary to make the calculation at the level of depreciation by month versus number of hours of use. For the moment I have not noted a configuration upgrade from them. I would have liked to see some configuration upgrade because there have been other generations since Nvidia, even if their configuration already allows to make everything run in Ultra. Will they keep the GTX 1080s for a long time?
I invite you to do the test a month before changing your configuration for a new PC overpriced.
And I want to add, despite some points of geek quibble, finally a French company that innovates in this area! Just for that it's worth our support! They are really going in the right direction. Let's not forget one important thing: the quality of their technical support is really on top! I had to deal with them once, in the evening very late and in a few minutes the problem was solved.
Shadow and you?
Have you already tested Shadow? Are you already a customer at home? Or would you like to test it? Share a comment below, we will exchange our comments on our experiences.
Of course the link to Shadow: https://shadow.tech/