Three Billboards Outside Ebbing, is an American movie that we are going to see at the movies. We did not stop on this film as a first choice but a combination of circumstances made us find ourselves in the room of this film. Really a very nice surprise.
Three Billboards, what about the story?
You know big boards with ads on the edges in highways. Well here these 3 panels are in the middle of … nowhere.
They are directly related to the heart of the film. A woman searches for the murderer of her teenage daughter who died in dramatic circumstances: raped, burned and killed. She decides to rent three billboards to write more personalized messages to relaunch the survey. She will not hesitate to attack the work of the local police chief.
This mother will succeed in attracting attention to her small village, which will move the tranquility of the place. She is hated by her small community for putting these signs, without spoiler you will see how this hate evolves.
Ambiance of the movie and acting
The two are extremely connected in this film, the actors play really well and put an atmosphere from the beginning of the film. We are in a small Missouri village, so much to say the deep American countryside. The inhabitants are vulgar, insulting without stopping, and for some whose IQ is so low that it sometimes becomes funny and we will not fail to laugh a lot of times.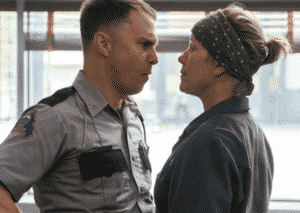 The actors were at least very well rewarded for their role in this film, with the Oscar for best actress for Frances McDormand for playing the role of the mother's principal. And another Oscar for the best secondary role won by Sam Rockwell who really deserves his Oscar for his role as a not very smart cop.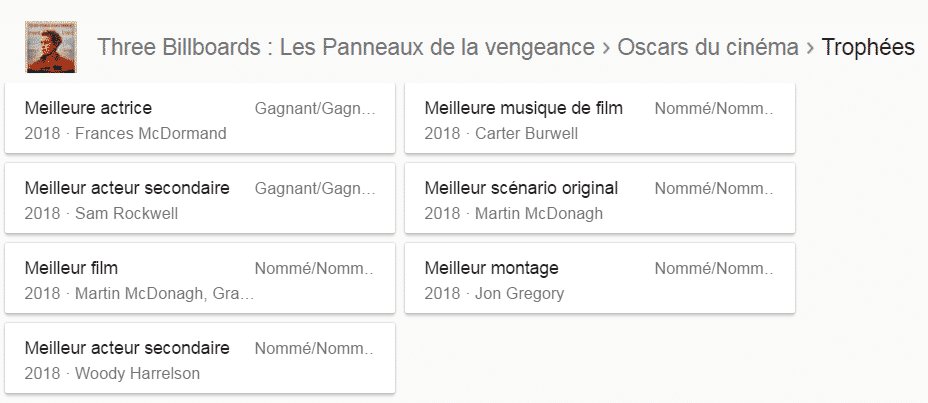 A very nice surprise, I do not regret having seen this movie which was surely my third choice but finally I had a great time. So much so that I was watching the time to find out if the film was going to end, not by boredom but to find out if we were going to know who had killed his daughter and if his mother was going to find him.